Fragrance Bar in Bridgetown, Barbados.
Welcome to an unforgettable olfactory journey at My Two Scents Fragrance Bar!  Whether you are a beginner or a seasoned scent lover, this experience is designed for you.  Join us for an immersive 1-hour and 30-minute adventure into the world of fragrance, open to ages 16 and up.  It's the perfect outing for teams, bridal showers, romantic dates, girlfriend getaways or curious island visitors.
Explore Our Luxe Fragrance Bar Packages
Mix & Create Your Own Fragrance Oil for a Totally Custom Reed Diffuser
As you step into our Fragrance Bar, you'll be greeted with a welcome glass of champagne,setting the tone for a delightful journey ahead. Get ready to be amazed as you peruse our scent menu, featuring an exquisite array of fragrances including the earthy notes of sandalwood, the zesty burst of grapefruit, the soothing aroma of lavender, the freshness of bamboo and the timeless allure of rose, and more.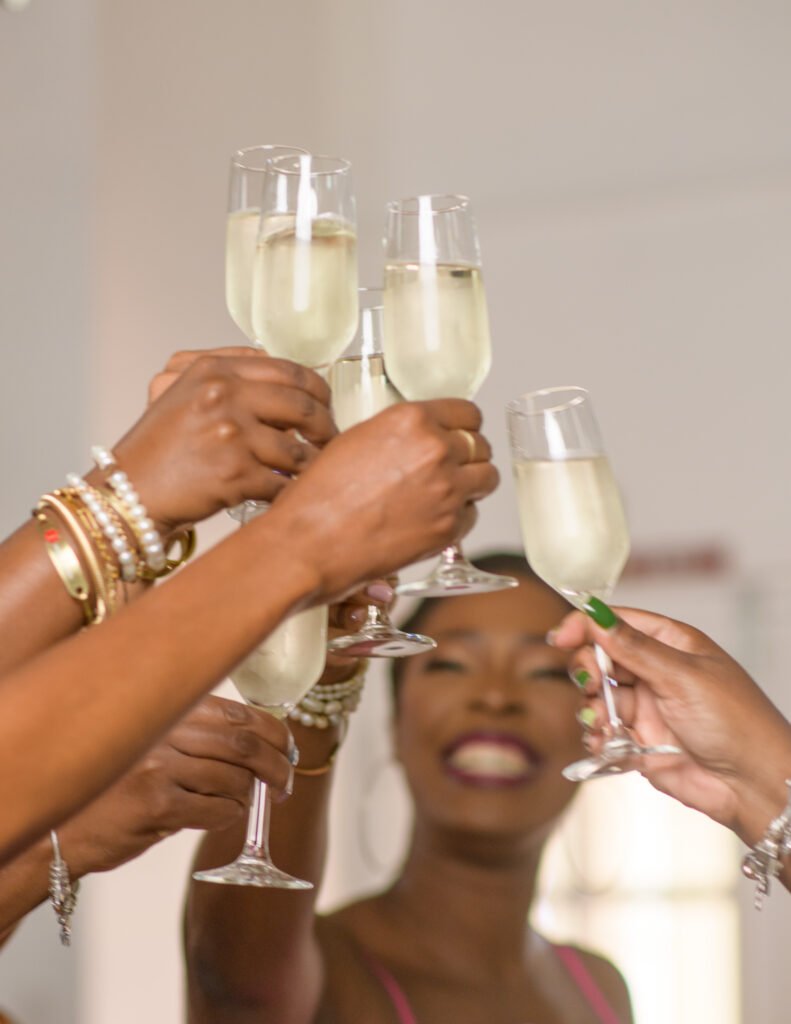 Exploration: You'll have the chance to explore these fragrances at your own pace, testing pairings and combinations, unlocking the artist in you.
Guided Crafting: Our expert scent artisan will you through the crafting process, helping you to create a reed diffuser that's uniquely yours. You'll leave with a tangible memory infused with your personalized scent.
Take your Scent Home: But the adventure doesn't end at the Fragrance Bar. You can reorder your custom creations online through this page, ensuring that your home always carries the aroma of your cherished experience.
Whether you come as a group of 4 or a party of 12, this experience promises to awaken your senses and leave you with cherished memories. We cant wait to welcome you to our Fragrance Bar!
My Two Scents Fragrance Bar FAQ's
Do You Accept Walk-Ins?

No.  All session are reserved in advance. To view our current and accurate availability, please visit our booking page.
When Should I Arrive?

All guests should arrive at least 10 minutes before the session has started to give yourself time to prep and get comfortable for the event.
I Love my Custom Blend! Do You Offer Refills?

Yes.  At the end of your session, you'll take home a card with the fragrances used in your unique custom blend.  You can use the information to reorder via this link.
Do You Host Birthday Parties or Showers etc?

Yes, we do host pouring sessions for special events like bridal showers, milestone birthdays and team events.  Reach out to us via email contact@nativecaribbean.com to learn more.
Can I Bring Food To The Fragrance Bar Or Do You Sell Food?

Food is not permitted at the bar.  However each patron to the bar is welcomed with a glass of champagne.  If you would like to have your own cocktails served at the bar, please contact us for more information in advance of the event via email 

contact@nativecaribbean.com

 
How Many Custom Products Can I Create?

Your package includes one customised item in the cost.  Should you need more, you can add-on additional custom blends for purchase at the bar.
Are Children Allowed?

Yes, we gladly cater to children 13 years and older who must be accompanied by an adult. Each adult and child must purchase a ticket.
Fragrance Bar Booking Policies
A full refund will be issued for bookings canceled seven (7) days before the event. Any cancellations occurring within three(3) days of the event will incur a 50% cancellation fee which will be deducted from the total of the booking and the balance will be refunded. Cancellations occurring 48 hours before the booking are non-refundable.
If you and your entire party are more than 10 minutes late, we will attempt to reschedule your booking for the next available opening, and you will have 24 hours to confirm.
If only a minimum of two persons has arrived for the booking, but the rest of the party is more than 10 minutes late, the event will begin as scheduled with whoever is available. Others in your party may join upon arrival.
Ready to Create Your Own Fragrance?